8. Model menu¶
The model menu allows selection, editing model configuration, alarms, logging and screen configurations. You can access the menu by pressing the ENT key to select the 'Main menu' and then again on 'Model menu'.
Depending on the selection you have done for the Mixer GUI in section Model setup (Std & Adv GUI), the model menu operation will be completely different.
Advanced GUI:
Standard GUI: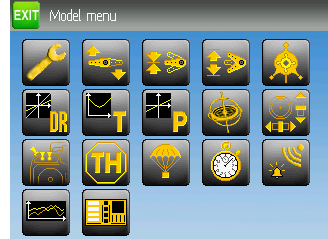 Note: The Advanced Mixer GUI is the default setting for all new models.