Joomla says you aren't logged in
This is an old revision of the document!
---
Devo 7E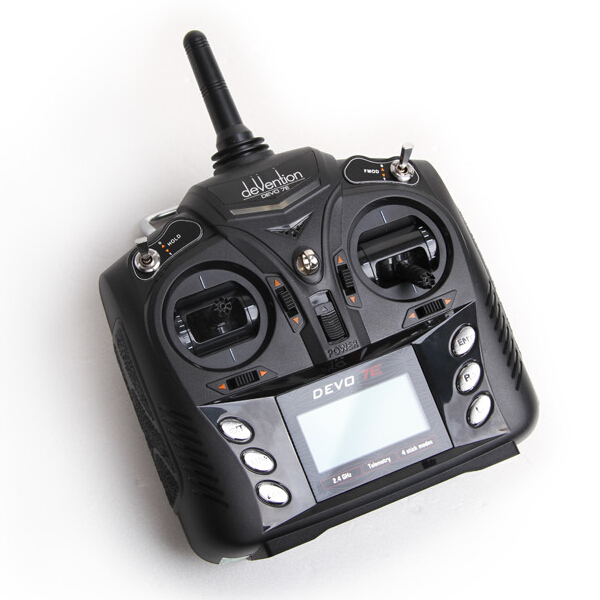 The Devo 7E is the best value for money transmitter that you can buy that DeviationTx supports. It shares the same smaller body as the Devo 6 but instead has a 128×64 pixel LCD screen similar to the Devo 10.
It however only has 128k of flash memory, which is barely sufficient for DeviationTx. It is equipped with only two 2-way switches and a range limited RF module. There are proven modification though to overcome these limitations.
SeBy DocKy has made a great series of tutorial videos for the Devo 7E. Here is his introduction to the Devo 7E.
Features
LCD
128×64 B/W with backlight
Touch Screen
No
Gimbal Bearings
Yes
Switches
HOLD (2-way)
FMOD (2-way)
Potentiometers
No
DSC (Trainer) Port
Yes
Charging Port
Yes (For NiMh only)
SD Card Slot
No
USB Upgradable
Yes
Power
4 x AA
---
Installing DeviationTx
Modifications
Due to its' popularity, the Devo 7E probably has the most documented modifications available within the Walkera Devo line of transmitters. Here you'll find the tutorials and videos to get you started.
Extra RF Modules
Full Range Mod
WK-DEVO-S-MOD RF Module
Add Two 2-way Switches
Add One/Two 3-way Switches
Arduino to PPMin for Extra Inputs
Swivel Antenna Mod
LiPo Battery Mod
Power Regulator Upgrade
Add Power-on LEDs
---
Other Devo 7E Information
---
Hardware Information
transmitter/devo7e.1462723291.txt.gz (61562 views) · Last modified: 2016/05/08 09:01 by silpstream
---